Peter Miller murder: Norfolk Police rejects complaint over evidence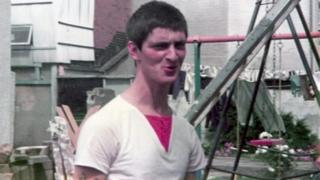 Police have thrown out a complaint about how they destroyed, returned or lost 170 case exhibits connected to the murder of a man more than 30 years ago.
Peter Miller, 24, was stabbed to death in Great Yarmouth in December 1984.
His brother Tony complained to Norfolk Police last year, saying the absence of the evidence made any forensic breakthroughs unlikely.
The force said because more than 12 months had gone by since the incident, the complaint would not be upheld.
Tony Miller said: "I was expecting this, but it's devastating that I still can't get answers."
His brother died after being stabbed through the chest and was found on the kitchen floor of his family home in Camden Place on 9 December 1984.
Mr Miller was arrested over the death but released soon afterwards.
A number of other people were arrested, but no-one was ever charged.
In 2014, the force admitted evidence had been destroyed or returned to original owners in 1991, but the number of items was not known.
Tony Miller called for an inquiry into the original police probe, saying the case was "flawed".
Last year, he made a complaint to Norfolk Police about the lost case exhibits and said the handling of the case had "stolen" justice from the family.
In a letter seen by the BBC, Norfolk Police told Mr Miller his complaint "related to matters where more than 12 months had elapsed between the incident... and the making of the complaint", and either no good reason for the delay had been shown, or injustice would be likely to be caused by the delay.
Mr Miller appealed the force's original decision not to uphold the complaint in March, and has now been informed his appeal has failed.
"I'm in a situation now where I don't know what to do next," he said.
"I can't afford a solicitor, and my legal knowledge is limited. I can't concentrate on anything I want to do because my mind is focussed on this.
"All I've ever wanted is justice for my brother - an apology from Norfolk Police, and an explanation of what went wrong."
Norfolk Police is yet to respond to the BBC's request for a comment.