Camden Town-Redwell 'Hells' lager dispute settled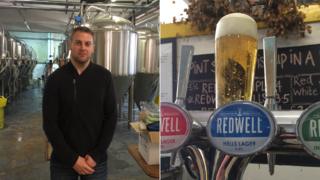 A brewery has agreed to stop producing its Hells Lager in an out-of-court agreement after another firm, which already had a beer with the same name, threatened it with legal action.
Redwell of Norwich had argued the name was derived from the German word Helles and was widely used.
Camden Town Brewery of London argued the use of the name infringed on its own Hells lagers and took legal action.
Redwell said the deal it had reached was "acceptable".
Camden Town Brewery issued High Court papers in December 2014 claiming Redwell was trying to "pass off" its newer beer as Camden's.
'Feel bullied'
Patrick Fisher, co-owner of Redwell which was established in 2012, had argued at least 35 other brewers used the words Hells or Helles on their labels.
"Many, if not all, have been brewing a brand using these words for far longer than Camden, so we feel we have been bullied by them despite us trying so solve this amicably," he had said.
Mr Fisher said the agreement limited what he could now say on the matter.
"It's a very good and acceptable deal for us and I'm happy with it, even though we're lost our Hells Lager," he said.
Neither the Camden Town Brewery, which was established in 2010, nor its new owners Anheuser-Busch InBev (AB-InBev) have responded to the BBC's request for comment.
Matthew Curtis, founder and blogger on the Total Ales website, said "Hells" was not a generic term.
"Hell and Helles are used to describe light in colour German lagers from Bavaria," he said.
"Camden's was a deliberate play on words. They're not the only brewery to call a beer Hells, but they were the first to successfully build a brand on it."