Andrew McGowan killing: Accused called knife his 'pride and joy'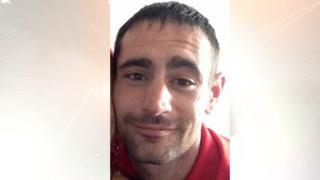 A man accused of a stabbing murder in a seaside town had a large knife which he described as his "pride and joy", a court has heard.
Warren Blake, 18, and Tevin Birmingham, 21, have denied the murder of Andrew McGowan, who was stabbed to death in a Great Yarmouth flat.
Norwich Crown Court heard Mr Blake's then girlfriend said he had a knife which was about 15cm long.
Mr McGowan bled to death in a flat in Dickens Court on 14 November.
Prosecutor Andrew Radcliffe said the flat was well-known as a place where drugs were dealt. Mr Blake, of Thorncliffe Road, south London; and Tevin Birmingham, of Spring Road, Ipswich; went there to sell them.
Mr McGowan was stabbed five times, once in the front by a knife that pierced his lung and heart, and four times in the back, Mr Radcliffe said.
The trial continues.