Care provider in Norfolk 'not consistently safe'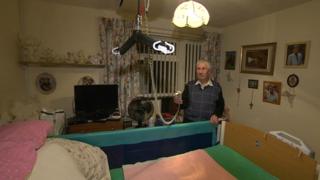 A firm providing care in the home in the north Norfolk area is not consistently safe or caring, according to the Care Quality Commission (CQC).
It started an investigation into Better Health Services after an ex-worker told the BBC elderly patients were being put at risk.
The report details dozens of missed or late calls to people who need care.
The firm took over the Norfolk County Council contract in November and said it had made improvements.
Not a 'quick fix'
In January, an ex-employee told BBC Radio Norfolk the firm had missed calls to elderly patients owing to problems with its computer systems.
She said this "could be immensely dangerous with vulnerable people not getting care".
Eric Goleby, 75, who lives with his 67-year-old wife Sally in Hickling, near Great Yarmouth, said two carers were needed to hoist his wife out of bed but "several times" only one had turned up.
The report by the CQC found care plans that did not have enough information and medicine was not being safely managed.
It highlighted one case where a person did not get their insulin medication.
Better Health Services' (Norwich) managing director, Marc Diamond, said the firm had been hit by recruitment problems but lessons were being learned.
"I can say with my hand on my heart we try to hit the highest standards possible.
"What happened in Norwich can happen anywhere else but it's not often a quick fix, so it does take time.
"I would say that if we had an inspection today it would be completely different."