Great Yarmouth car driver stopped with guttering out of window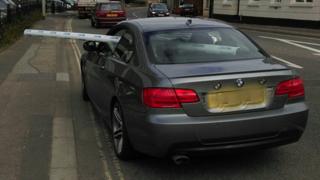 A man faces prosecution for driving through a seaside town with guttering overhanging the pavement from his car window.
Police stopped the BMW driver in North Quay, Great Yarmouth, on Wednesday.
A report has been sent to the traffic justice unit, which will decide on a potential prosecution for using a vehicle in a dangerous condition.
The guttering was intended for a garden shed and the driver later transported it safely, police said.
"The vehicle had the nearside window open and a four-metre long length of plastic material, later discovered to be guttering, projecting out of the window.
"The vehicle passed through urban areas, including a pedestrian crossing, and was stopped by police," a spokesman said.
"It is the driver's final responsibility to ensure any load in or on their vehicle is safe and does not pose a risk to anyone.
"This sort of load presents a real risk to pedestrians or cyclists and the driver themselves if it were to contact any roadside furniture."
"If prosecuted, a driver can receive three penalty points and £100 fine on first offence," he added.