Horse fans gallop to help Norwich Hillside pony shelter fund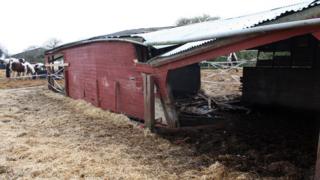 Horse lovers have galloped to the aid of a group of unlucky rescue ponies after a storm destroyed their shelter.
Several ponies were inside but escaped unhurt when the building collapsed at Hillside Animal Sanctuary.
Half of the 40 ponies at the Shelter are "Sully ponies", rescued from floods on the Sully Moors in Glamorgan, Wales, four years ago.
A week after an appeal began for £7,000 to rebuild it, supporters have raised £5,000 for the centre.
The "Sully ponies" have been made homeless for the second time in their lives after a storm battered the shelter in Frettenham, near Norwich, at the end of March.
They were originally brought to Hillside after being abandoned on moorland in Glamorgan.
Succumbed to storms
Although members of the public used to feed them, Welsh floods in 2012 made it impossible to get to the animals and a rescue attempt resulted in the ponies, some of which were pregnant, being brought to their new home on the other side of the country.
The shelter they now share with the rest of the Hillside herd had been standing for 20 years when it succumbed to stormy weather.
Wendy Valentine, from the sanctuary said although it was "nearing the end of its life" they had managed to "patch the shed up many times".
Supporters rallied round when the shelter appealed for money to rebuild it. The almost instantaneous response was "amazing", she said.
The shelter will be cleared from the site in the next month or so and it is hoped a new one can be built for the ponies by September.