Norfolk GP jailed for child rape admits abuse of police officers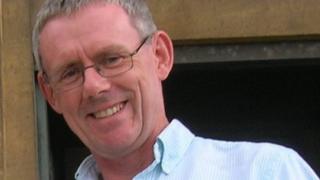 A family doctor jailed for 12 years for raping and sexually assaulting two children has admitted abusing female police officers.
Dr Hugh Blaise O'Neill, pleaded guilty at Norwich Crown Court to 13 counts of indecent assault on a female, relating to 13 officers at Norfolk Police in 1990s and early 2000s.
The 62-year-old was jailed in January 2015 after admitting two counts of rape and three counts of gross indecency.
He is due to be sentenced next week.
Following O'Neill's guilty plea on the opening day of proceedings, it emerged that allegations were made about his conduct in 1993 and 2002.
Norfolk Police said it had commissioned a professional standards investigation.
O'Neill, from Tasburgh in Norfolk, worked as a medical adviser for the police between 1991 and 2003. The offences took place between 1991 and 2001.
Det Supt Kathryn Thacker said: "It's now clear O'Neill was a sexual predator who operated in plain sight for a number of years."
The previous charges stemmed from January 1995 to December 2002, when his two victims were under 14.
The offending was not connected to his work as a GP.
"The case prompted a re-investigation of a number of previous allegations made between 1993 and 2003, which did not, at the time and following consultation with CPS, lead to criminal prosecution," Norfolk Police said.