Ferrari stopped and seized by police in Norwich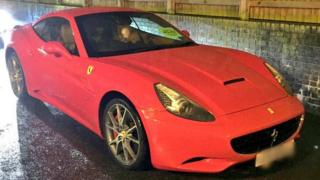 A luxury sports car has been seized by police after the driver was found to have no licence or insurance.
Police said the driver of the Ferrari California was stopped in Norwich early of Sunday morning.
Sgt Chris Harris posted on Twitter that the driver did not have a valid UK licence, and insurance for the vehicle had been cancelled.
He said the car could "most probably" be sold if the driver did not reclaim it within 14 days.
The driver will have that time to prove they have a valid licence and insurance, Mr Harris said.