More than 40 KLM aircraft jobs at risk in Norwich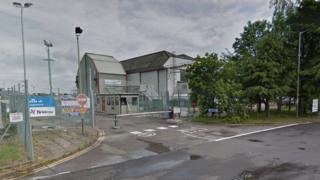 More than 40 jobs could be axed at a company which refurbishes aircraft at Norwich Airport, a union has said.
KLM UK Engineering employs 150 people at its Norfolk base and another 300 elsewhere in the UK and abroad.
The Unite union said "competition from Asia for refurbishing newer models of aircraft" was one reason for the potential job losses.
KLM Engineering said it was consulting with staff over possible redundancies but declined to comment further.
The company carries out modifications to aircraft as well as repairs and inspections, and has had its headquarters in Norfolk for more than 40 years.
'Mixed emotions'
However, as well as competition from overseas, Unite regional officer Steve Harley said: "There is a significant problem with getting enough work in the summer months. That's when airlines want the aircraft in the air, transporting passengers around the world, not stuck in hangers being refurbished."
He said he was hoping most of the redundancies would be voluntary and that the company could ride out the storm.
"The staff have mixed emotions," he said.
"There is disappointment after successive management reshuffles that this could be happening again. Our members want managers to get hold of this and ensure they are part of any future strategy to secure the future of the business."
The union said it was continuing its discussions with KLM UK Engineering about remuneration packages and possible changes to working hours.
KLM is currently a partner for the Aviation Academy, a training centre which has been hailed by the government as the first of its kind in the UK.
Simon Witts from the academy said he did not believe the news would affect the new facility at Norwich Airport, which he expected to go ahead as planned.