Pilot David Jenkins crash death 'may have been linked to heart problem'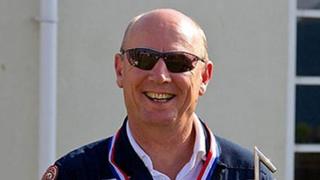 A world-renowned aerobatics pilot with an undiagnosed heart condition was judged fit to fly hours before he died in a plane crash, an inquest has heard.
David Jenkins, 61, of Stanton, near Bury St Edmunds, died when his Edge 360 plane crashed at Old Buckenham airfield, in Norfolk, on 22 April 2015.
Post-mortem tests found the condition could have made him lose control at a "critical stage of the flight".
An inquest jury concluded his death was accidental.
Mr Jenkins was flying the plane as part of a press day for an airshow when the accident happened.
More on this and other news from Norfolk
Earlier this month an Air Accidents Investigation Branch (AAIB) report said Mr Jenkins was "flying a series of aerobatic manoeuvres" when he failed to recover correctly from a "tumbling manoeuvre and inadvertently entered a spin".
There was no mechanical fault with the plane but investigators concluded his undetected heart condition may have made him lose control of the plane at a "critical stage of the flight".
'Amongst the best'
Norwich Coroner's Court heard Mr Jenkins had been invited to fly as a passenger in a Tornado bomber at RAF Marham on the morning of his death.
In order to take part he had undergone a routine medical examination and was passed as fit.
However, the AAIB report said unless Mr Jenkins had been displaying physical symptoms at the time of the test, his condition could not have been picked up.
The inquest jury returned a verdict of accidental death contributed to by a natural disease.
During the hearing the pilot was described as "amongst the best in the world and a name known across the globe".
Oxford-educated Mr Jenkins had been flying since he was a teenager and twice held the British advanced aerobatics title.
He was a member of the Wildcat Aerobatic Team, based at Old Buckenham Airfield, near Attleborough, where the event took place.