RAF drill sparked 'real world' crash rumours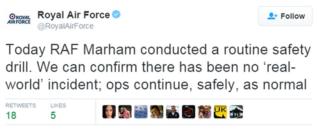 An RAF drill was mistaken for a real event and sparked reports of a tornado crash and ejections on social media.
An exercise at RAF Marham in Norfolk on Monday is understood to have included a call sign which was misinterpreted.
The RAF was forced to admit there had not been a "real world" incident shortly afterwards.
"We conducted a routine air safety drill involving RAF Marham's emergency services. We confirm there has been no actual incident," RAF Marham tweeted.
By mid-afternoon, tweets from various sources had claimed one of the two crew had ejected from the aircraft, and "witnesses reporting crashing tornado and ejections".
More on this and other stories from Norfolk.
Shortly after 15:00 GMT, the RAF tweeted: "We can confirm there has been no "real-world" incident; ops continue, safely, as normal."