Christian Milburn's death in North Elmham house fire 'a mystery'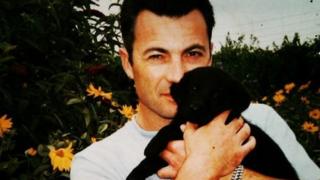 The cause of a house fire that killed a man is a mystery, an inquest has heard.
Christian Milburn, 50, died in a blaze at his three-storey home in North Elmham, near Dereham, last March after becoming trapped in the attic flat.
An investigation by Norfolk Fire and Rescue suggested the fire may have been started deliberately.
But after hearing from an independent fire investigation report, coroner Jacqueline Lake said the evidence could not conclusively confirm the cause.
The hearing at Norwich Magistrates' Court was told Mr Milburn went up to his flat in the attic on the evening of 19 March, saying he was going to text his daughter Naomi, 21, who was studying in London.
Ten minutes later there was a power cut in the house and Christian's father, David Milburn, 71, told the hearing he went to investigate and saw flames coming from the airing cupboard.
Mr Milburn's wife Angela said they shouted and threw stones at the attic window, before fetching a ladder which was put up outside Mr Milburn's bedroom window.
A toxicology report said he died of smoke inhalation and burns.
Robert Ayres, of Norfolk Fire and Rescue, said investigators concluded the most likely cause of the fire was "deliberate ignition".
But an independent report, carried out by fire investigator and forensic scientist Andrew Wade, and paid for by Mr Milburn's family, found the fire in the airing cupboard could have been caused by an electrical fault.
In her conclusion, Coroner Mrs Lake said there was no indication that Mr Milburn had wanted to take his own life.
She said it would "have been difficult for him to escape from his room as the exits were well alight".
She delivered a narrative verdict, saying he died of the effects of a fire in his home.
Outside court, his daughter, Naomi Milburn said of the verdict: "[We're] extremely relieved; a little less heartbroken than before."