Man arrested over Norwich International Airport website hack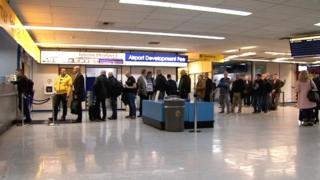 A man has been arrested in connection with a cyber attack on Norwich Airport's website.
The 29-year-old from Dover in Kent was arrested in the town on Thursday on suspicion of computer hacking.
The attack happened in early October 2015 and has been investigated by the Norfolk & Suffolk Cyber and Serious Crime Department.
The suspect was taken into custody in Kent where he is being interviewed by officers.
Last year a hacker told the BBC he had breached the security of the airport's website to highlight its vulnerability.