Harry Potter star joins Dereham Sixth Form College protest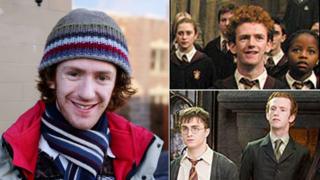 A Harry Potter actor has joined a campaign opposing a move to split his old sixth form college in two.
Neatherd High School wants to establish its own sixth form separate to the existing Dereham Sixth Form College (DSFC), which currently serves children in the Norfolk town.
Chris Rankin, who played Percy Weasley in the Potter films, is one of 1,000 people to sign a students' petition.
Neatherd said the aim was to offer "top quality" provision.
DSFC was established in 1977 for pupils from the town's Neatherd High and Northgate High.
Both schools currently govern and provide teachers for DSFC, but Neatherd has announced it wants to go it alone from September.
The sixth form currently has 426 pupils studying 32 A-levels and four BTEC courses.
'Doesn't make sense'
Mr Rankin, 32, who went to Northgate, said: "It's a great shame - there has always been competition between the two schools, yet you came together at the sixth form.
"It feels like Northgate are being excluded here and the petition shows how strongly pupils feel."
Lucy Spinks, 17, a DSFC pupil behind the petition, said: "It's fantastic we've got support from Chris Rankin.
"Pupils will lose out and you're going to end up with two separate sixth forms, on the same site, with no crossover of teachers and two separate classes for the same subject. It doesn't make sense."
'Good education'
Chris Smith, Neatherd's deputy head, said DSFC had "for some time been under-performing" and applications to go there from his school had dropped by 25% last year.
"Tellingly, over 30 of our most able students chose to continue their studies elsewhere.
"We believe that by establishing our own sixth form, we can provide the area with top quality sixth form provision."
He said Neatherd's sixth form would be open to pupils from any high school and, although it would honour existing pupils's BTEC choices, the long-term focus would be on A-levels.
The director's office at DSFC said it was unable to comment.
A spokesman for the local education authority, Norfolk County Council, said it was "considering the implications".
He said: "Our view is Dereham Sixth Form College generally provides a good education with a small number of subjects in need of specific improvement."