Crane lifts lifeboat into £1.4m centre at Sheringham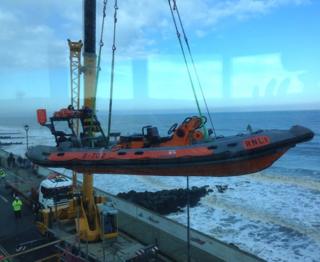 A 1.6-tonne lifeboat has been lifted 50ft (15.2m) into place in a new £1.4m Norfolk museum centre.
The Atlantic 75 Royal National Lifeboat Institution vessel, which was based at Sheringham between 1994 and 2008, is going on display at the town museum.
The Manchester Unity of Oddfellows was the first Atlantic 75 in the country to enter full operational service.
The new museum extension was funded with a Heritage Lottery Fund (HLF) grant.
Sheringham Museum manager Philip Miles said "The museum has been given the unique opportunity to preserve and display a significant piece of maritime history.
"Our current premises couldn't support this essential growth to our collection.
"With the support given by the HLF, other funders and our volunteers, we have been able to create a stunning new space with unrivalled views of the North Sea, providing the perfect home for this important piece of National Maritime Heritage."
Robyn Llewellyn, head of HLF in the East of England, said: "Thanks to money raised by National Lottery players we are delighted to have supported this wonderful project which will transform one of North Norfolk's best-loved heritage sites, while keeping the community at heart and providing a range of opportunities for people of all ages to get involved in the future of their heritage."
The lift was successfully completed by professional contractors, aided by the museum volunteers.
The lifeboat will go under wraps to protect it from the surrounding building work and will be on public display from July. The existing museum will reopen on 1 April.