Hopton sea defences plan by Potters Resort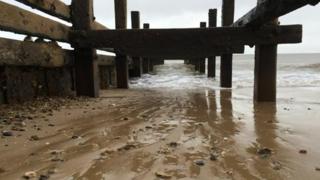 A holiday resort is planning to spend millions importing rocks to protect a beach and cliff from erosion.
Sand levels at Hopton-on-Sea in Norfolk are reported to have dropped by up to 10ft (3m) in five years.
Potters Resort would wholly fund the building of new groynes to protect the sea wall at the bottom of the cliff.
Brian Hardisty, chairman of Hopton Coastal Action Group, said: "There is a threat it could be undermined and we need to act."
Potters has accommodation for 800 guests at its site between Great Yarmouth and Lowestoft and it hosts the annual World Indoor Bowling Championships.
The proposal would replace the existing wooden groynes by building a 500m wall of rock along the base of the cliff with four rock groynes stretching about 50m into the sea.
'Exposed and defunct'
It would be similar to the nine rock groynes built in 2014 by Bourne Leisure just to the north of Potters at a cost of about £8m and the cost of the new scheme was estimated to be £3-4m.
Mr Hardisty has lived in a bungalow between the two holiday resorts since 2000 and his garden goes down to the cliff top.
"You could walk down the beach over the top of the wooden groynes when I moved here," he said.
"The sea only came up to the concrete sea wall about five times a year and now it's there every day - the old wooden groynes are exposed and defunct.
"These defences could last for 100 years and residents couldn't thank Potters enough for this project."
Great Yarmouth Borough Council granted planning approval at the meeting of its Development Control Committee on Tuesday evening.