Trial for threatened fen orchid in Norfolk to save it from extinction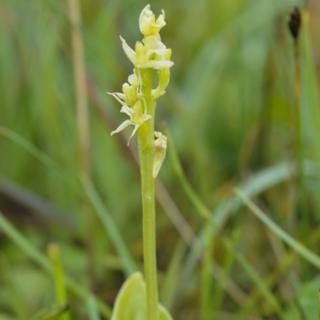 A rare orchid which only grows in three UK spots is to be relocated in an experiment to save it from extinction.
The fen orchid is only found in Norfolk, Braunton Burrows in north Devon and Kenfig in Wales but a trial could introduce it to Suffolk too.
Tiny plants will be uprooted on their individual moss cushions and kept overnight by Plantlife's Tim Pankhurst.
If they cope with the move from their natural habitat and flourish, they will later be re-sited at new, secret homes.
Charity Plantlife, of which HRH Prince Charles is patron, will carefully take the threatened plant from sites near Stalham in Norfolk.
Mr Pankhurst said: "The plants are very vulnerable and highly sensitive to changes in their environment.
"If they don't succumb to the trauma of moving, drying or overheating overnight I'll know that our rescue mission can go ahead."
In the wild, most fen orchid sites have been lost through drainage and changes in fen management, as they have few roots and live perched on little mounds of moss.
Secret locations
If the orchids survive, they will be planted out again, and their progress monitored to see how they grow next year.
The experiment could pave the way for more fen orchids to be relocated to sites in Norfolk and also Suffolk, over the next two years.
Mr Pankhurst added: "The new locations will be top secret as fen orchid is so rare we can't risk it revealing its new homes - it could pose a security risk".