'Missing' Norfolk UKIP councillor was in meetings, police discover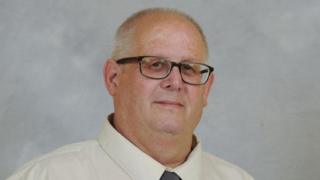 A UKIP councillor was so busy attending meetings that his family reported him to police as missing.
As reported in the EDP, Denis Crawford, who represents Thetford East on Norfolk County Council, had not returned his daughter's calls for two days, so she alerted the police.
Two officers searched his flat while two others eventually found him at a council meeting, his sixth in two days.
He apologised and said he would tell his family where he was in future.
Mr Crawford said his 07:00 to 22:00 GMT schedule was "not unusual" and he had not realised he had missed telephone messages from his daughter.
'What's wrong?'
The councillor, who serves on Breckland Council and Thetford Town Council, as well as the county council, had attended back-to-back meetings on both Monday and Tuesday.
Read more on this and other stories from Norfolk
When officers turned up at the town council, Mr Crawford said: "It was a huge surprise. The first thing I knew about any concerns was when two officers poked their heads around the door and asked for me.
"I was thinking 'what's wrong?' but the officers explained they were looking for me because I hadn't been seen at home for such a long time."
He admitted he was "surprised" his family had called in the police as "councillors do have to attend a lot of meetings".
"They may have been concerned I had passed out somewhere because I am a diabetic," Mr Crawford said.
Once officers were convinced Mr Crawford was no longer a missing person, they allowed him to return to yet another meeting and explain the police presence to his colleagues.
"Everybody took it in good humour but I'm sure I'll get a bit of stick from my fellow councillors," he said.