Hunstanton whale 'could be removed by end of week'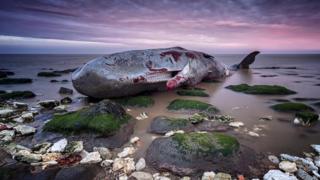 The body of a whale that died on a Norfolk beach could be removed before the end of the week.
The 30ft (9.1m) juvenile male sperm whale, believed to weigh about 30 tonnes, became stranded at Hunstanton on Friday.
King's Lynn and West Norfolk Borough Council said winds and tides had moved the carcass, making access easier.
Contractors are due to cut the whale into sections in situ for it to be incinerated outside Norfolk.
Samples including the whale's lower jaw had been taken for analysis and there was no evidence that people had tried to scavenge body parts, which is a criminal offence, a council spokeswoman said.
"[Removal of the whale] has taken time due to the location, its huge size and weight and rapidly advancing decomposition," she said.
"If arrangements can be finalised quickly, the removal is likely to take place before the end of the week."
She added: "Everyone is strongly urged to keep their distance from the carcass.
"It is in an advanced state of decomposition which may be distressing to see, particularly for children."
On Monday, security guards were deployed to the beach to prevent people from taking parts of the carcass.
Post-mortem tests were due to be carried out but were halted earlier this week after one of four whales washed up near Skegness, Lincolnshire, "exploded" because of a build-up of internal gases.
The remains of this and two of the other whales are due to be removed "within the next few days", East Lindsey District Council said.
A fifth whale, on a former bombing site, is in too dangerous a position to move.
It is not yet known how the whales came to be in the southern North Sea, where they became stranded in shallow waters.
All five are thought to be from the same bachelor pod.
Twelve others were found dead around the Netherlands and Germany last week.