IC24: Norwich CCG outlines improvement plan for out-of-hours GP service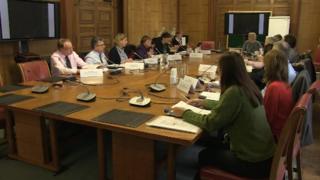 An out-of-hours GP provider has been given until June to improve after a report leaked to the BBC revealed "significant" patient safety risks.
The interim report into Integrated Care 24 (IC24), which covers Norfolk and the Wisbech area, also revealed staff had been asked to alter records.
Norfolk Clinical Commissioning Group (NCCG) said it would hold weekly meetings to "monitor improvement".
IC24 said it had addressed the issues raised.
The firm was given the contract to handle non-emergency 111 and out-of-hours GP calls in Norfolk and Wisbech in September.
At a meeting on Tuesday, Sheila Glenn, NCCG's chief nurse and director of quality, said "action had been taken" where the findings of the leaked report had been substantiated.
She said NCCG was "encouraged IC24 seemed determined to improve".
'Element of fear'
The leaked report expressed "serious concerns" about 111 callers "waiting in excess of 12 hours" to be triaged, a shortage of GPs and deficiencies in the call-handling and IT systems.
It also found an "element of fear" among staff in reporting concerns.
NCCG said it could not substantiate claims that details of patients not dealt with were removed from computer screens after 12 hours by a non-clinical member of staff but that it would "continue to seek assurance that this is not the case".
Updated IT systems, changes in the ways calls are classified and making more senior management available for staff to express concerns are among the improvements outlined by the agreed plan.
Recruitment of more highly-skilled clinicians and staff with local knowledge, and the appointment of an operational manager to integrate 111 and out-of-hours services, are among the other steps being taken.
NCCG said IC24 would be undertaking random audits to provide this assurance.
NHS call targets missed
IC24
81%
of 111 calls answered in 60 seconds in December - NHS target is 95%
67.6% of out-of-hours callers speak to GP within an hour on average - 95% NHS target
BBC
'No effective pressure'
"These will take time, particularly when GP recruitment is such a difficulty. The CCG is meeting weekly with IC24 to monitor the level of improvement," said Ms Glenn.
Dr Mark Reynolds, medical director for IC24, said: "We are committed to working closely with our commissioning bodies and GP colleagues to ensure that the service continues to improve for our patients."
Nikki Cocks, NCCG's director of operations and delivery, confirmed financial penalties were possible if improvement targets were not met in time.
She said, if so, the contract could be withdrawn, but given there was no provider "waiting in the wings" to take it on, "that would not help the public".
Bill Adnams, of the Norfolk branch of pressure group Keep Our NHS Public, said his organisation was "far from reassured" by CCG's responses.
"There's little the CCG can do if IC24 don't improve. It's worrying there's no effective pressure they can apply to guarantee a higher quality service," said Mr Adnams.
The remedial action plan for IC24 to tackle all the concerns has now been submitted by the CCG to NHS England for approval.