North Norfolk care provider missed calls concern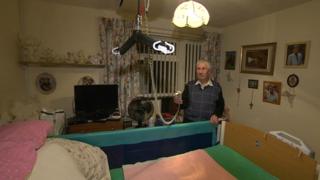 Staffing shortages at a home care provider are putting the safety of elderly patients at risk, a former care worker has claimed.
Better Healthcare took on a Norfolk County Council contract to provide home care for mostly elderly people in north Norfolk in November.
An ex-employee said the firm had missed calls to elderly patients.
The company's managing director, Mark Diamond, told the BBC it had been under "immense pressure".
He said Better Healthcare lost "seven or eight" staff in its first few weeks.
A former employee, who asked not to be named, told the BBC the firm had missed a number of calls to patients owing to problems with its computer systems.
She said this "could be immensely dangerous with vulnerable people not getting care".
"It is absolutely horrendous," she added.
Eric Goleby, 75, who lives with his 67-year-old wife Sally in Hickling, near Great Yarmouth, said two carers were needed to hoist his wife out of bed but "several times" only one had turned up.
"Very often they have not got anyone to cover the shift.
"They are not allowed to use the hoist with just one carer, so I have to be the other carer [operating the hoist] at my age," he said.
"If they can't supply the carers, they need to give the contract up. It is as simple as that."
The care worker said in one case a patient was left "lying in a bed for 14 hours because they were not getting the care they needed".
She said this was due to computer or clerical errors and claimed that she and other members of staff had left the firm due to low morale.
North Norfolk MP Norman Lamb, a former Lib Dem care minister in the coalition government, said he had received letters about the issue.
"It is critically important they get this sorted. It is disturbing," he said.
Mr Diamond said he was unaware of how many calls were missed.
"When you are faced with several care workers leaving at the same time it's not straightforward to replace those, so there's a time issue in getting the service back to running smoothly," he added.
Norfolk County Council said it was meeting with Mr Diamond on Wednesday.