Investigation after Hunstanton sperm whale dies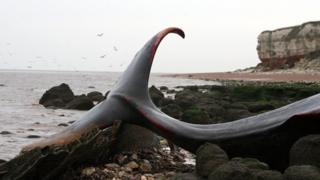 An investigation has been launched to discover why a sperm whale became stranded on a beach and died.
The young male was one of up to five whales that swam into the Wash at Hunstanton in Norfolk. Three were stranded, but two broke free.
Hunstanton Sealife curator Kieran Copeland said the stranded whale died at about 23:00 GMT on Friday.
A team from the UK Cetacean Strandings Investigation Programme is going there to perform a post-mortem examination.
The whales were first spotted in the Wash earlier on Friday, according to Seawatch Foundation regional co-ordinator Carl Chapman.
He said sperm whales were a deep sea species which cannot find suitable prey in the shallower waters of the North Sea.
Mr Copeland said a team of between 15 and 20 people from the RNLI and HM Coastguard, as well as staff from the Sealife centre and divers, tried to help the 50ft (14.5m) whale back into deeper water.
He said: "When it became apparent our attempts were not going to work, we scaled back the team and about a dozen of us stayed with the whale until it died."
Scientists from the Cetacean Strandings Investigation Programme will carry out tests to ascertain the cause of its death.
It co-ordinates the investigation of all whale, dolphin and porpoise strandings round the UK coastline to gather data.
Rob Deaville, who manages the programme, said he was concerned at least two other sperm whales were "at considerable risk" of stranding.
"We've had reports of about 12 sperm whales stranding on the Dutch and German coasts in the past few weeks," he said.
"We think they're all part of the same bachelor pod - they should not be in the North Sea and especially not in the southern North Sea."