Six police cars involved in tractor chase from Norfolk to Cambridgeshire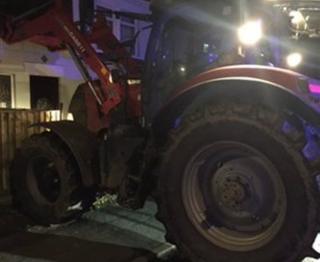 Police chased a tractor between two counties in a pursuit involving six patrol cars and a force helicopter.
The vehicle was taken from a farm in Tilney St Lawrence, near King's Lynn, Norfolk shortly before 20:00 GMT on Saturday.
It was abandoned in Oakroyd Crescent in Wisbech, Cambridgeshire, after it was driven in to a dead end.
A man in his 20s from Wisbech has been arrested in connection with the incident.
Norfolk and Cambridgeshire Police forces were involved in the pursuit.