Lithuanian traffickers jailed after two men found working in Suffolk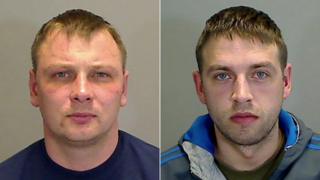 Two Lithuanian men have been jailed for trafficking two men, found working in food processing plants, who were paid £20 over four months.
The victims were brought to Great Yarmouth with the promise of food, work and accommodation.
Konstantin Sasmurin, 34, and Linus Tatautus, 31, of Caister-on-Sea, were each sentenced to three and a half years jail at Kings Lynn Crown Court.
Police found the victims had been working at two plants in Suffolk.
The court heard the victims were put up in Cobholm in Great Yarmouth at a house which had mould on the walls and no beds.
'Financial greed'
Police said they were given very little food and sometimes went a number of days without eating.
They were taken to a food processing plant in Suffolk and Sasmurin told them to give his address as their own and to get their wages paid into his own bank account.
After four weeks without being paid they were taken to another plant.
The defendants paid each victim £20 for all their work carried out between July and October and told they told them it was because they owed them for accommodation, transport and electricity, while the rest went on taxes and interest.
Sasmurin and Tatautas admitted trafficking people to the UK for the purpose of labour exploitation and also for money laundering offences.
As well as jail sentences, they were issued with Slavery and Trafficking Prevention Orders.
Det Sgt Mark Scott from Norfolk Police said: "This case is another example that modern day slavery is real and is happening around us.
"It must not be tolerated."
Dave Powell, investigating officer with the Gangmasters Licensing Authority, said: "Those two workers were extremely vulnerable - they were preyed upon and exploited by perpetrators who showed not a care for their welfare and were driven solely by financial greed."