Lord Ballyedmond helicopter 'had no identifiable defects'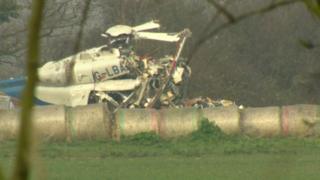 A helicopter which crashed, killing all those on board, "had no identifiable defects" an inquest has heard.
Air accident investigator Mark Jarvis said there was no evidence it was damaged before the crash in March 2014.
It was "behaving normally and had no identifiable defects which would have affected the flight," said Mr Jarvis.
The private helicopter took off in thick fog from Lord Ballyedmond's estate in Gillingham, Norfolk and crashed seconds later.
Lord Ballyedmond, one of Northern Ireland's richest men, his foreman, Declan Small, 42, and his two personal pilots, captain Carl Dickerson, 36 and co-pilot Lee Hoyle, 45, all died.
The inquest jury had earlier seen mobile phone footage of the take-off by an estate worker voicing his concerns about the flight taking place in such foggy conditions. The person filming is heard remarking: "They're taking off blind."
Flt Lt Ian Smith, an on-call RAF search and rescue pilot at Wattisham airfield, Suffolk, said he was sent to the scene of the crash.
He said the fog was so thick that, even with military equipment, he could not land. An Air Accidents Investigation Branch report has already found the crash may have been triggered by an error in perception along with a lack of training and procedures.
Lord Ballyedmond, also known as Dr Edward Haughey, was the owner of Norbrook Laboratories, the largest privately owned pharmaceutical company in the world.
A life peer with a seat in the House of Lords, first on behalf of the Ulster Unionist Party before switching to the Conservative Party, he had also previously sat in the upper house of the Republic of Ireland's parliament, the Seanad.
The inquest in Norwich is expected to conclude on Friday.