Norwich woman jailed for filming sex attack on unconscious woman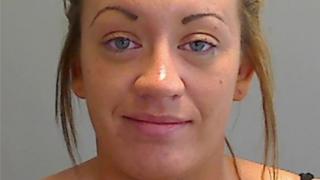 A woman who used her phone to film a sex attack on an unconscious victim has been jailed for 32 months.
Alyshia Newton, 26, of Friends Road, Norwich, later showed the "extremely disturbing" footage to the assaulted woman, who cannot be named.
The victim contacted police, and the video - featuring a woman's giggle - was discovered on Newton's phone.
Newton pleaded guilty to sexual assault at Norwich Crown Court in November 2015. She was sentenced on Wednesday.
At Wednesday's hearing, the court heard that Newton's phone showed the victim lying unconscious as Victor Chokor, 36, of Balfour Street, Norwich, assaulted her. He was arrested a few days after police discovered footage of the attack, which happened in July 2014.
Chokor was jailed for 27 months. He pleaded guilty in November to sexual assault and possession of extreme images.
"Extremely disturbing"
A woman's giggling is also heard during the incident at Chokor's flat where the victim had gone to socialise.
DC Paul White said: "The victim woke up, after passing out on a sofa, with no knowledge the offence had taken place.
"It was only days later when she saw the footage that she realised what had happened to her.
"The footage was extremely disturbing and it is shocking another woman would find such an incident amusing and take the time to record it on a mobile phone."
In addition to their prison sentences, Newton and Chokor were made subject of 10-year restraining orders and Sexual Harm Prevention Orders.
Newton was placed on the Sex Offenders Register indefinitely and Chokor for 10 years.