Human bones removed from Great Yarmouth church display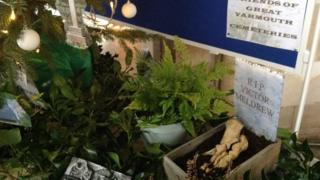 A vicar has ordered part of a church Christmas display be removed after he realised it featured human bones.
A skeletal foot, believed to have belonged to a retired GP, appeared in front of a headstone-style sign which read "RIP Victor Meldrew".
The bones, and images of graves which decorated a Christmas tree, have since been removed from Great Yarmouth Minster.
Reverend Canon Chris Terry said: "It was not really appropriate."
Battle of Waterloo
"There were one or two things that weren't quite right," said Mr Terry. "There was a skull and some other things."
"We just felt it was not really appropriate so I asked for it to be removed. The skull and skeleton parts have been removed but the tree remains.
"We were grateful that the group who prepared the tree agreed to move it."
Friends of Great Yarmouth Cemeteries, who prepared the display, declined to comment to the BBC.
But a volunteer at the church told the BBC the bones had belonged to someone who had died at the Battle of Waterloo.
Mr Terry said he was unaware if this was correct.