Norwich City footballer Gary O'Neil banned from driving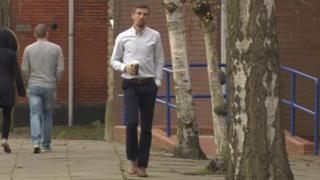 Premier League footballer Gary O'Neil has been banned from driving for six months after being clocked doing 103mph and 97mph in separate speeding incidents.
The Norwich City player was recorded doing the speeds on the A11 in Norfolk and A14 in Suffolk a month later.
O'Neil, 32, admitted the offences before magistrates in Ipswich.
He has also been fined £1,750 but is appealing against the disqualification, which begins immediately.
O'Neil, who lives in Orpington in Greater London, was recorded by officers with speed guns in his BMW Series 7.
'Commute from south London'
The first incident was in February on the A11 at Wymondham near Norwich, while the second, at the higher speed, was on the A14 near Newmarket in March.
Both roads are dual carriageways with 70mph (110km/h) speed limits.
The court heard that O'Neil had told police he could be fined a week's wages if he was late for training.
The player commuted from south London to Norfolk which meant a round trip of 256 miles (410km) a day.
Magistrates were asked by O'Neil's counsel to consider suspending the disqualification while the appeal was under way, but they refused.
O'Neil has previously played for West Ham United, Portsmouth and Queens Park Rangers.