Hunday Ferguson tractor collection sells for £520k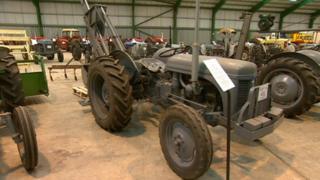 Tractors and farm machinery from a collection believed to be the most complete of its kind has been sold to buyers from around the world for £520,000.
The Hunday Ferguson collection was amassed over more than 40 years and included rare and early machines.
Auctioneer James Durrant said the sale, including 73 tractors, "exceeded expectations".
The collection was most recently owned by a Norfolk businessman.
Paul Rackham, of Roudham, near Thetford, had bought the large collection in 2004 from farmer John Moffitt, of Peepy Farm in Stocksfield, Northumberland, and added to it with other historical machines.
He said it would be "impossible" to amass the fleet now as several of the items were so rare.
Among the most successful lots which went under the hammer at Mr Rackham's farm on Saturday was a Series 1 Land Rover, which had been bought by the Ferguson company in 1953.
Mr Durrant, of auctioneers Clarke and Simpson, said it had been listed at £22,000 but sold for £36,000.
"The collection has been dispersed and will be going far and wide, to several different people. I know one of the buyers was from Australia," he said.
In September, Mr Rackham sold another fleet of 180 vintage tractors for £1.5m.