Anglia trains cancelled due to wheel damage on 'too light trains'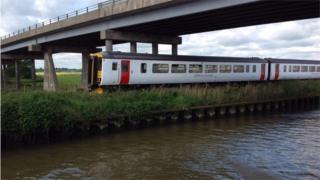 Trains across the East were cancelled because lighter diesels were unable to mulch leaves, a rail expert has said.
Abellio Greater Anglia (AGA) services were affected this autumn between Norwich, Great Yarmouth, Ipswich, Felixstowe, Cambridge and Peterborough.
Philip Sutton, editor of Rail Exclusive, said leaf build up on lines created a hard surface that caused trains to skid, damaging wheels.
AGA said up to two damaged trains per day were having to be withdrawn.
Trains being taken out of service led to rolling stock shortages, causing cancellations.
Mr Sutton said leaves lodged in wheels often caused skids or sliding, damaging the track by rail burn and creating flat sections on wheels.
'Poor rail conditions'
"Trains are lighter now so they don't squash the leaves as heavier trains used to," he said.
"Leaf damage can place undue stresses on the wheels, which then have to be removed to be re-profiled or repaired, meaning the train is out of service."
Sim Harris, editor of industry publication Rail News, said there were millions of trees alongside tracks.
"When Network Rail wants to demolish them they attract a great deal of opposition from people who fear their barrier against train noise will disappear.
"So each autumn leaf fall creates huge problems."
This year there has been a significant increase in the amount of leaves and Network Rail, responsible for ensuring tracks are clear, said it was running extra rail clearing trains.
A spokesman said: "We are doing everything we can to minimise disruption and will continue to work with Abellio."
Currently services are not running between Norwich and Great Yarmouth due to trains being damaged.
Services have been regularly cancelled in recent weeks since high winds hit Britain.
An AGA statement added: "The problems are due to some of our diesel trains suffering wheel damage as a result of poor rail conditions."