Mental health death after Norfolk and Suffolk trust failure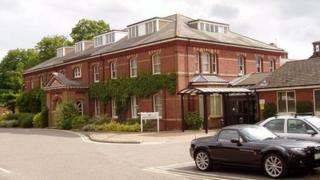 A mental health patient died after a "failure" to respond in a "timely way" by a stretched health trust team, a report says.
The Norfolk and Suffolk Foundation Trust report said there were "serious capacity issues" with its crisis resolution team.
It says another death occurred after a patient could not be assessed due to the service having "reached capacity".
The trust said it has taken action to meet the increasing demands on it.
The report into unexpected deaths, including suicides, was released following a Freedom of Information request by the Campaign to Save Mental Health Services in Norfolk and Suffolk (CSMHS)
It reveals the trust conducted a review following the death of the patient to ensure better communication and to put in place an "escalation plan" when crisis team "capacity is exceeded".
It said the patient's death came at a time when there were "serious capacity issues" that led to a "failure to respond in a timely way".
Another patient died in the process of being transferred to the crisis resolution team when it "had reached capacity" and "could not assess the service user (patient) overnight and late into the next day".
The patients died in the past year.
'Beds closed'
Director of nursing Jane Sayer said: "This was the result of increased referrals to our services, particularly... in central Norfolk, where the pressures on our staff were further exacerbated by a lack of an increase in funding for mental health services nationally."
"Since last year, our trust has made a £950,000 investment to increase the capacity of our community mental health teams, while redesigning our Crisis Resolution Home Treatment team to ensure it can provide patients with adequate support and assessment.
"This has resulted in making sure our patients based in the community have a named mental health professional or at the very least a duty worker, co-ordinating their care to offer greater support.
"We also try to work closely with families and carers wherever possible, and with a patient's consent."
A CSMHS spokesman said: "Over the past four years, despite rising demand, the funding of mental health services... in Norfolk and Suffolk has been cut by 18% relative to physical health. Beds and community services have closed.
"In these circumstances, it was inevitable that demand would exceed supply and people in crisis needing help from the NHS would be let down, with tragic consequences."
A spokesman for NHS England said: "Mental health has until recently been the poor relation, but the good news is that this year we are now seeing a turnaround, with investment in mental health care going up markedly faster than last year - and by a much higher percentage than other services.
"The NHS is, for the first time in 25 years, now planning on introducing clear waiting times standards for mental health care, beginning in April."