Edith Cavell: Sculpture to commemorate WW1 nurse shot in Belgium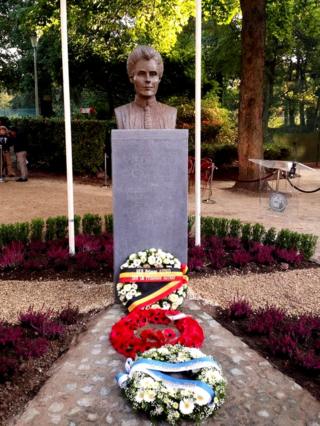 A contemporary sculpture of nurse Edith Cavell, shot by German troops 100 years ago, has been unveiled in Brussels by Princess Astrid of Belgium.
Ms Cavell, a pioneering matron from Norfolk, was shot by a firing squad in Brussels for helping Allied prisoners escape to Holland.
To mark her death the bust was unveiled near the site of her execution.
The event was attended by the Princess Royal and local dignitaries.
Belgian senate ceremony
The bust was designed by Belgian sculptress Natalie Lambert and located near a street in Brussels named after her, Rue Edith Cavell.
The vicar's daughter from Swardeston near Norwich, served as a matron during World War One in a hospital in Belgium and treated Allied, as well as German and Austrian soldiers.
She was remembered as a martyr after being executed by a German firing squad on 12 October 1915, aged 49, following a conviction for treason under military law.
To mark the centenary of her death, a ceremony will also be held at the Belgian senate and there will be talks about her life, including one speech by Cavell's biographer Diana Souhami.
Events are being held in Brussels, Norwich and Peterborough (where Cavell went to school) to celebrate her life.
The railway carriage used to transport Cavell's body from London to Norfolk, where she was buried, went on show in Norwich for the first time.
At Peterborough Cathedral on 17 October there will be an Edith Cavell Centenary Concert.
The nurse has also been commemorated at Trinity Church Salford, where she used to worship during her time as matron at the Manchester and Salford Sick, Poor and Private Nursing Institute in 1906.
An Act of Remembrance took place at the war memorial outside the church.