Dr Manav Arora denies groping patient at Norwich hospital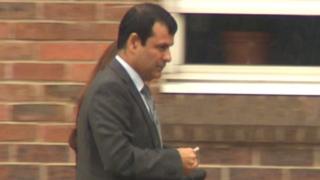 A locum doctor has denied groping a patient during a procedure on a busy ward at a Norfolk hospital.
Dr Manav Arora, 37, from Birmingham, is accused of touching the patient's penis while working at the Norfolk and Norwich University Hospital.
The patient was being treated for back problems in September last year.
Dr Arora appeared at Norwich Crown Court accused of sexual assault. The defendant told police he had no sexual interest in men, the court heard.
Andrew Shaw, prosecuting, said part of the treatment required the fitting of a catheter in a procedure performed behind a curtain at his bedside.
When a nurse left him alone with Dr Arora, the patient felt his private parts being groped, Mr Shaw said.
The victim told him to stop and made an immediate complaint to the nurses on duty.
When questioned by police, Dr Arora said that any contact with the victim's penis was medically necessary.
The case continues.