Edith Cavell's railway carriage displayed in Norfolk for first time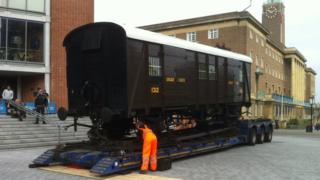 A railway carriage used to transport the body of executed World War One nurse Edith Cavell has gone on show in her home county for the first time.
Ms Cavell was shot by a German firing squad on 12 October 1915.
After the war her body was bought back to England on a destroyer and transported by train to London.
The carriage - known as the 'Cavell Van' - will be on display on tracks outside The Forum in Norwich until 17 October and visitors can sit inside it.
The nurse was born in Swardeston near Norwich and the arrival of the railway carriage is one of many events commemorating the centenary of her death, at 49-years-old.
'Staggering sight'
She was executed for aiding the passage of about 200 British and Allied soldiers from Belgium to The Netherlands.
After her body was returned to England, a service was held at Westminster Abbey before she was buried at Norwich Cathedral.
Brian Janes, curator of the Colonel Stephens Railway Museum in Tenterden, Kent where the Dover-London carriage is usually based, said: "It's nice to be able to show it to people to demonstrate the voyage - it must have been an absolutely staggering sight.
"Everybody was fully aware of the nature of Edith Cavell as a heroine - all the children of Kent went to their local station to salute her as she passed through.
"The display of the carriage has been designed for quiet reflection and people can read about her life on panels inside."