Thetford regeneration scheme goes ahead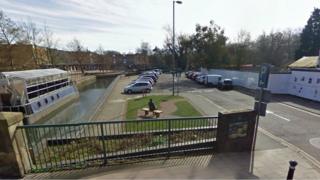 Work has started on an £8m scheme for a hotel, cinema and restaurants on the riverside site of a former bus station in Norfolk.
The Riverside Regeneration Project in Thetford includes a 62-bedroom hotel and a three-screen cinema.
The joint venture between Breckland council and private developer the Land Group also aims to create 75 jobs.
The Thetford Society opposed an early scheme and held a poll in which 1,921 out of 2,300 voters said "No".
A new scheme has been approved and Breckland Council leader Michael Wassell said many jobs would be created during the 18-month construction but others would come from the development itself.
New homes are also being built in different parts of the town as part of the regeneration to bring new people and leisure facilities into the town.