Norfolk and Norwich University Hospital's 'bullying culture' criticised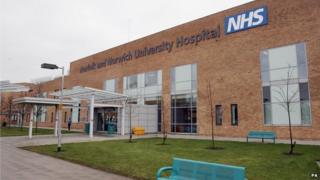 A "bullying culture" among the managers at a major Norfolk hospital has been criticised by health inspectors.
The issue was raised in a report on the Norfolk and Norwich University Hospital (NNUH) which found "significant work" was needed to improve services.
The Care Quality Commission (CQC) said it had "serious concerns" about the effectiveness of the leadership.
Hospital chief executive Anna Dugdale said they took bullying very seriously and were addressing the issue.
'Staff disconnection'
The CQC carried out an unannounced inspection between 4 and 6 March 2015, focusing on accident and emergency services, capacity and demand, medical care, cancer services, surgery and the overall leadership at the trust.
Its chief inspector of hospitals, Prof Sir Mike Richards, said: "While there were some areas of good practice, it was clear that significant work was still needed to improve services so that they meet the standards people have a right to expect.
"The main areas of concern surrounded a disconnection between staff and the leadership team.
"Serious concerns were raised regarding board effectiveness and a bullying culture within the leadership team."
Ms Dugdale said: "Our NHS staff survey results put us in the bottom 20% nationally for bullying and harassment.
"This is something we take very seriously and we have been working with staff members and staff representatives in forums and meetings to develop our action plan to address this issue.
"To help deal with the challenges we face we have strengthened our leadership team, the board has put in place a number measures to increase long term capacity and a number of transformation projects are being led by front line clinical staff to further improve our services for patients and respond to feedback from our staff."