James Arnold: Norfolk gunsmith denies weapons charges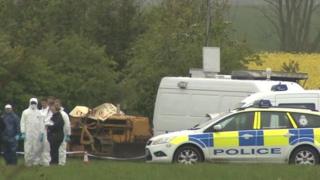 A gunsmith has denied illegally supplying a revolver to a council leader who was found with an arsenal of weapons at his home.
Anthony Buckland, 64, who ran AR Buckland in Stoke Holy Cross near Norwich, is accused of supplying the weapon to James Arnold.
Mr Arnold, of Wyverstone, Suffolk was arrested last year, but died in July.
Mr Buckland has pleaded not guilty to 20 offences at Norwich Crown Court and is due to stand trial later this year.
Mr Arnold had been chairman of Wyverstone Parish Council near Stowmarket.
Died in jail
Officers discovered the weapons during a search of the 49-year-old's house while investigating assault allegations.
He was charged with being in possession of a self-loading rifle gun, a bolt-action shotgun, an Uzi and an AK-47 assault rifle, but the full haul was believed to be one of the biggest the country had ever seen.
He died while on remand at Belmarsh Prison in London, before he entered a plea.
Mr Buckland, of Mill Road, Stoke Holy Cross, was arrested following the discovery.
He has denied one charge of selling or transferring a prohibited pistol, nine counts of fraud by false representation, one of possessing a prohibited weapon and nine of selling or transferring prohibited rifles.
He is due to stand trail on 30 November and has been released on bail.