Gorleston sea-rescue woman dies in hospital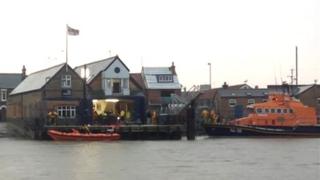 A woman pulled from the sea off the Norfolk coast has died, police have confirmed.
Officers were called to Gorleston-on-Sea, near Great Yarmouth, at just after 07:00 BST when clothes and a note were found on the south pier.
The woman, aged 49, was rescued by a local lifeboat at just after 08:30, about 200m (656ft) off Hopton Beach.
The East of England Ambulance Service said the woman was "unconscious" and "not breathing" when it treated her.
She was later taken to the nearby James Paget Hospital.