Norfolk Broads algae toxin threatened fish rescued by Environment Agency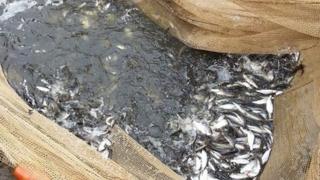 Hundreds of thousands of fish fleeing toxic algae on the Norfolk Broads have been rescued and moved to clean waters.
Scientist are collecting water samples and dead fish from the affected area in Hickling to discover why the blooms of prymnesium parvum algae release toxins.
The Environment Agency said 230,000 fish were rescued over two days.
The fish required rescuing after they shoaled in oxygen-depleted shallow water but about 400 died during the operation, a spokesman said.
Staff at Whispering Reeds boatyard and a local angling volunteer helped the fisheries teams net and move them in tanks to Potter Heigham where they were released into the river.
Fisheries specialist Stephen Lane said: "It was thanks to people who phoned us with their concerns that we were able to save nearly a quarter of a million fish."