Cromer wins Pier of the Year award after major work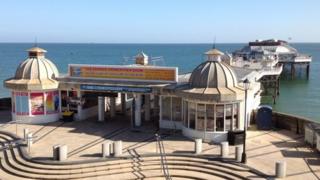 Refurbished Cromer Pier, which was damaged in the winter storm surge, has been voted Pier of the Year 2015.
The National Piers Society voted Worthing second, with Llandudno and Eastbourne tying in third places.
Cromer, which has undergone £1.8m of repairs and improvements, was given a global audience as a location for the Alan Partridge Alpha Papa film.
Owners North Norfolk District Council said it was a "fantastic reward" and they were "hugely proud of the pier".
Tom FitzPatrick, Norfolk District Council leader said: "Despite the huge battering it took, the pier remained open for business and with increased visitors to its unique End of the Pier Show, it goes from strength to strength. "
The council spent £1.3m refurbishing the legs and the majority of the decking, prior to the storm surge in December 2013.
After the storm damage, a further £500,000 was spent repairing the box office and the restaurant.
In February 2013, Cromer had been the location for the Alan Partridge Alpha Papa film.
It will also feature in the forthcoming BBC drama series Partners in Crime, starring David Walliams and Jessica Raine.
Jo Artherton, from pier operators Openwide Coastal Ltd, said: "We are delighted to have won the award after a very difficult year.
"The staff have had to had to work in difficult conditions, whilst the rebuild is going on."