Norfolk and Norwich Festival's council funding cut by 90%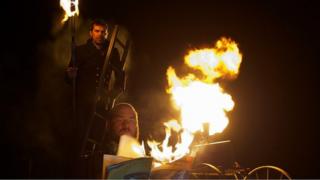 Organisers of the Norfolk and Norwich Festival are seeking a major sponsor after being hit with a 90% funding cut.
The festival of theatre, music, literary and arts - which runs from 8 to 24 May - will see its grant cut from £83,400 to £8,442 in 2015-16.
The county council said its arts funding has been reduced from about £250,000 to £150,000 as part of its overall budget savings.
Organisers said they had worked hard to ensure 2015 would not be affected.
Artistic director William Galinsky said it was a "sad day to see Norfolk County Council ending its commitment as one of the festival's principal funders".
"We are grateful to Norwich City Council and the Arts Council for their continued investment and support," he added.
Executive director Alex Darbyshire said: "We have successfully expanded the number of sponsors and production partners in recent years.
"We also feel that we are in a strong position to attract a principal sponsor to support the festival into the future."
Smaller projects favoured
Margaret Wilkinson, of Norfolk County Council's communities committee, said: "Over the past four years our central government funding has been cut by £85m.
"Demand for services has increased, so the council must take some tough decisions to balance its budget.
"So a reduction in arts funding is inevitable."
The council said it had spread cuts to favour smaller projects. Six awards were frozen and the rest suffered funding reductions.
Council Grants Awarded for 2015-16
Cinema Plus - £2,506
Community Music East - £2,560
Creative Arts East - £10,764
Kings Lynn Arts Centre - £5,504
King's Lynn Festival - £4,976
Maddermarket Theatre - £1,420
Norfolk & Norwich Festival - £8,442
Norwich Arts Centre - £7,767
Norwich Playhouse - £3,548
Norwich Puppet Theatre - £4,355
Norwich Theatre Royal - £2,500
St. George's Theatre - £5,220
SeaChange Arts - £6,458
Sheringham Little Theatre - £4,992
Thalia Theatre Company - £1,260
The Garage - £9,835
Westacre - £3,720
Writers' Centre Norwich - £7,772
Wymondham Music Festival - £1,250
Total - £94,849