Caution urged on Norfolk seal pup 'cannibal' death theory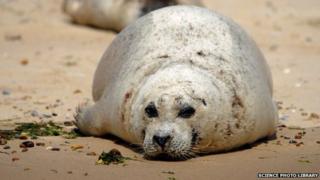 A report suggesting cannibalism could be behind the deaths of dozens of seal pups should be treated with caution, the National Trust has said.
Boat propellers were initially thought to have caused corkscrew-like injuries to 38 animals killed in 2010.
But a Scottish marine research unit said it found "fairly conclusive" evidence "predation or cannibalism" by adult grey seals was to blame.
However, the trust said "blade cuts" remained a likely cause.
A spate of common and grey seal deaths on beaches in Blakeney, Morston and Wells-next-the-Sea in Norfolk occurred between November 2009 and August 2010.
'Killing and eating'
The animals all suffered spiral cuts thought to have caused their deaths.
Similar injuries to a number of seals on the Isle of May in December prompted researchers to look further into the causes.
A report by the Scottish Sea Mammal Research Unit (SMRU) considered a number of seal carcasses found between 2009 and October 2014 around the UK coast with the same distinctive markings.
Researchers said adult "cannibal" seals had been seen killing pups in a similar way, and eating them.
Dr Dave Thompson, a seal biologist at the SMRU said the findings suggested a "large proportion" of the injuries had been caused by grey seals.
But National Trust nature conservation chief David Bullock said earlier research by the SMRU had concluded corkscrew injuries were consistent with seals having been deeply cut by a propeller blade.
"We have seen some colonies drastically reduced and we are concerned that dynamically stationed vessels could remain a contributory factor," he said.
An RSPCA spokesman said: "We don't know for sure what is causing these horrific injuries, but will continue to investigate any evidence to see how we can prevent further deaths like these."