Norfolk and Norwich University Hospital ditches government mutualisation plans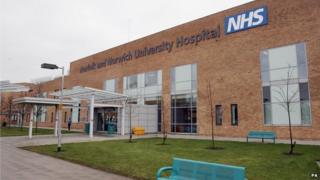 A move to take a hospital out of NHS control into private ownership has been quashed by the Norfolk and Norwich University Hospitals NHS Trust (NNUH).
Unison, which represents hospital workers, said it had raised concerns over mutualisation at the NNUH.
This would have allowed the trust to stop becoming wholly owned by the NHS in favour of being owned by different stakeholders including staff.
A trust spokeswoman said it preferred to "engage staff" in other ways.
The mutualisation scheme was introduced by Cabinet Office minister Francis Maude and health minister Norman Lamb to improve staff morale and engagement.
In an email to Unison, leaked to the BBC, a hospital spokesman said: "Our particular interest in the project was to learn from others about their experience of enhanced staff engagement and the potential result in benefits for patients.
"Since then, we have received further information about the project... in light of that we are withdrawing from the mutuals project so that we can instead progress our own comprehensive staff engagement programme."
The NNUH confirmed its decision to abandon the government initiative.
A Unison representative at the NNUH told the BBC it was concerned with how the profitability of the hospital might become a distraction for staff if they owned a share in the organisation.
He said: "We are very pleased the Trust now intends a big staff engagement exercise without risking the potential downside of steps - even very early steps - that might put the Norfolk and Norwich anywhere near the situation of the old mutual building societies."
The Department of Health (DoH) paid for consultants in the region of £100,000 to £120,000 to explore how changing the ownership of the hospital could benefit the trust.
The Norfolk and Suffolk NHS Foundation Trust, which runs mental health services in the county, is continuing with its plans to explore mutualisation.
It is one of eight trusts across England to be considering the idea.
A DoH spokesperson said the NNUH decision was "a shame" but the programme "will continue unaffected".