Sheringham St Nicholas Care Home 'totally inadequate'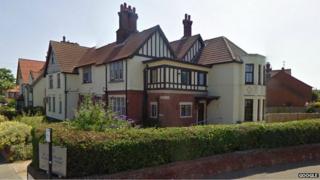 Enforcement action is to be taken against a nursing home in Norfolk branded "totally inadequate".
The Care Quality Commission (CQC) said St Nicholas Care Home in Sheringham failed in safety, care, effectiveness, responsiveness and leadership.
Inspectors said too few staff were looking after the 32 residents and hazardous materials were unsecured.
The CQC would not reveal its planned action for "legal reasons". Owner ADR Care Homes declined to comment.
The company owns four other homes.
The nursing home residents have a variety of conditions, including dementia.
Inspectors made an unannounced visit in December after concerns were raised and spoke to residents, their families and staff.
They found multiple breaches of care and health regulations.
'Considerable concerns'
"We found inadequate staffing levels, unsafe staff recruitment, hazardous cleaning materials left unsecured, poor pressure area care (bed sores), inadequate monitoring of diabetes, unsafe medicines arrangements and infection prevention and control issues," the inspectors said.
"We had considerable concerns that people weren't being effectively supported with their nutrition or hydration needs and reported these concerns to the local authority."
Some staff failed to grasp the requirements of laws governing the care of people with dementia despite their training.
Inspectors said: "We observed both good and poor examples of staff interaction with people.
"However, we had concerns that people were not always being cared for in a way that supported their dignity or privacy."
As a result the CQC has taken action to protect the safety and welfare of residents.
"While our legal processes do not allow us to go into further detail at this time, we are taking enforcement action and will report upon this when it is complete," a spokesman said.
"Meanwhile, we continue to closely monitor the service and to liaise with Norfolk County Council and the local clinical commissioning group."
Update 22 February 2016: After another visit to the home, the CQC published a further report in June 2015 saying improvements had been made and rating it as "good".