Norwich water main burst: Supplies being restored to 5,000 homes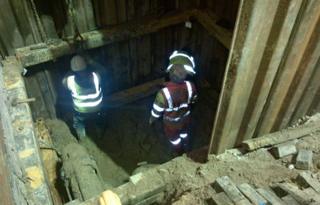 A water firm is to pay compensation to more than 5,000 households near Norwich after supplies were cut on Sunday.
A pipe burst 20ft (6m) underground at a pumping station at Caistor St Edmund, hitting several villages, including Poringland and Surlingham.
Anglian Water (AW) said supplies were being restored following a repair.
The company said it would pay affected customers £20 compensation and the nine parish councils in the area would each receive £1,000 for charity projects.
It also reassured people about water which may appear brown or cloudy.
A spokesman said the discolouration was harmless and was caused by "naturally occurring iron sediments in the water mains being disturbed as the pipes refill".
He said: "Water has been returning to the network overnight and is continuing to do so; however because of the large rural area covered this is likely to take several more hours before it reaches all of our customers' taps.
"We know how disruptive this problem will have been to you and your neighbours, especially over the holiday season, and are very sorry.
"The brown colour is caused by naturally occurring iron sediments in the water mains being disturbed as the pipes refill. White or cloudy water is caused by air in the water.
"If you need more water in the meantime the alternative supply locations have been fully restocked."
Angela Bell, from Poringland, said supplies returned at 04:30 GMT and the loss of water was an adventure for her four children aged six, nine, 10 and 11.
She said they were left without hot water and heating as their her boiler broke down at the same time the water supply was lost.
"It was so cold on Monday night, they all slept in the living room which has electric heat," she said.
"My father was brought up in a house with no running water but this was almost like camping.
"Anglian Water kept us up to date with information and a gas engineer said the boiler repair should be done on Wednesday."