Norwich water main burst leaves 6,000 homes without supplies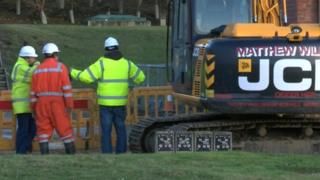 Anglian Water says work to restore water supplies to 6,000 homes in Norfolk could take until Monday.
A main pipe burst at a pumping station at Caistor St Edmund at 11:00 GMT, affecting supplies to an area south of Norwich.
The pipe is about 20ft (6m) underground.
Paul Naylor, regional supply manager for Anglian Water, said: "It's a very tricky job - the ground is very sodden where the water's leaked into it."
The burst in the main was just outside the pumping station building and specialist equipment was being brought in to dig down to it.
"We'll work right through the night," said Mr Naylor.
"Obviously, at this time of year our customers are inconvenienced and we'd like to reassure them that we're doing everything we can to get these supplies back on."