Boxing Day dip: Christmas sea plunge in Cromer, Felixstowe and Hunstanton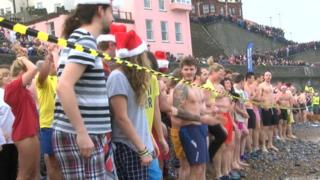 Hundreds of people around the East Coast have braved chilly temperatures to take a festive plunge into the North Sea to raise money for local charities.
Nearly 300 people took part in the dip at Cromer Pier in Norfolk earlier with thousands watching from the promenade.
Clive Hedges, who helped organised the event, said people were "very generous" with their donations.
Further around the coast in Felixstowe a Christmas Day dip is expected to raise about £40,000, organisers said.
The event has just "grown and grown", said spokesman Jack Nicholl.
Nearly 400 dippers took part in the Suffolk plunge to raise money for the St Elizabeth Hospice, which cares for people in east Suffolk and south Norfolk with life-threatening illnesses.
"I think it's just become a lot more recognised as an event, social media has played a big part and it's a really visually striking thing," said Mr Nicholl.
"People just appreciated it's a great way to start the day, catch up with friends and do something a little bit crazy.
"Most of the money comes from sponsorship and on Christmas Eve we had about £15,000. The total last year was £40,00 so we'd be surprised not to beat that target."
'Very cold'
Air temperatures off the coast at Cromer were "below zero" said Mr Hedges from the North Norfolk Beach Runners (NNBR), which organises the annual event, with forecasters reporting the sea was about 8C (46F).
"We perhaps didn't have quite as many dippers as last year, but it was very cold," he said.
"The biggest problem we had today is that the tide was very high, so we didn't have a lot of room on the beach and the water was quite deep when you went in."
The annual event in Cromer has taken place in the seaside town since 1985 when it was originally organised as "a bit of a dare" and is now a much anticipated tradition in the seaside town.
"Thousands of spectators turned out again, it's become such a spectacle... and they have been very generous again this year," said Mr Hedges.
He added the dip raised £1,530 for the Community Heartbeat Trust in order to help fund a defibrillator to "benefit the local community".