Grace Matthews, 7, gets life-changing blade legs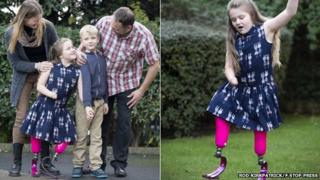 A seven-year-old girl from Norfolk who lost both her legs to meningitis in 2011 has received a life-changing early Christmas present.
Grace Matthews, from Norwich, has been fitted with prosthetic blades like those used by disabled athletes.
Taken to hospital with a temperature and sickness, doctors had to amputate her legs below the knee to save her.
She also lost all her fingers, half the thumb on her left hand and half the palm on her right hand.
The blades have been custom finished in a vivid shade of pink and will allow Grace to run for the first time in almost four years.
Mark Ledger, from Blatchford Clinic who made the blades, said: "She is an inspiration to everyone who meets her and deserves the very best prosthetic technology available to help her to live like any other seven-year-old girl."
Grace's mother Vicky said: "She is such a fun-loving, active girl and loves horse-riding, cycling and riding her scooter... we are so proud of her, this really is a dream come true."
The girl's parents want to share her story to help raise awareness of the dangers of meningococcal septicaemia, especially for children under five.
"We urge parents to trust their gut instinct if their child displays any of the signs and symptoms as several hours can literally make the difference between life and death," they said.
"Grace inspires us every day with her strength and resilience and we want to give hope to other families."