Heinz Norfolk Aunt Bessie's site closure 'a devastating blow'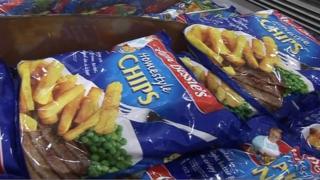 The closure of a Heinz factory with a 200 strong workforce in Norfolk is "devastating", the Usdaw union said.
A proposal to shut the Westwick site in North Walsham, which makes frozen potato products for Aunt Bessie's, was first made in October.
"Confirmation of the closure is devastating... particularly just before Christmas," said David Gill from the union which represents factory workers.
"The loss of the Aunt Bessie's contract has proved to be a fatal blow."
Confirmation of the closure was announced late on Friday.
In a statement, Heinz said the owner of the Aunt Bessie's brand, William Jackson Food Group, had decided not to renew Heinz's licence to make its frozen potato products.
"Heinz is deeply disappointed to have to make this announcement," a spokesman for the company said.
'Best possible deal'
Mr Gill told BBC Radio Norfolk: "The main importance here is obviously our members... but it's not just the members and staff, it's also the devastating news for the families and the wider community just before Christmas.
"The company did say in October they were looking at trying to find alternatives to continue with the site being viable, but that has not been successful.
"The important part for us as a trade union is to work closely with the company and try and get the best deal possible for our members and see what alternative employment there is in the area."
The site will permanently close in April 2015.
Consultation with employee representatives is set to continue until the middle of next month, in order to agree final closure plans.