North Denes heliport: Future of Great Yarmouth airfield 'in jeopardy'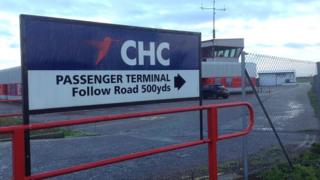 The future of Great Yarmouth's heliport has been put in jeopardy with the news that a major contract is ending next year.
CHC, which runs the site at North Denes, told the BBC that Perenco, one of its main clients, was moving its flights to Norwich Airport.
The firm said it was not at present discussing the closure of the heliport but said all options were on the table.
In 2011 CHC backed out of the plans to relocate to Norwich Airport.
CHC went on to invest more than £300,000 at the North Denes site.
Earlier this year, Perenco - a French business that operates in the southern North Sea - announced it was relocating its Great Yarmouth office base to Norwich next year.
Simon Gray, from the East of England Energy Group, which represents the off-shore industry, said if the move led to the airfield closing, it would be bad news for Great Yarmouth.
Perenco said it would not be commenting.